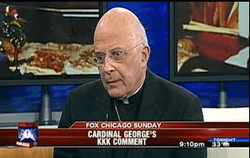 As of yesterday morning, the Gay Liberation Network still intended to protest Cardinal Francis George, of the Chicago Archdiocese, this afternoon for comparing LGBT rights activists to the KKK, even though the Cardinal had apologized for his remarks. (Read his apology here.) No longer.
Yesterday afternoon, the Network issued a statement which read, in part:
Even though the Gay Liberation Network finds the "apology" of Francis George woefully inadequate, we nevertheless agree to call off the protest scheduled for January 8 (tomorrow, Sunday) at Holy Name Cathedral. While taking this action, we highlight our sharp disagreement with some LGBT groups which previously backed the protest and now bubble over with undeserved praise for Cardinal George.
You can read the rest of the Network's statement here.