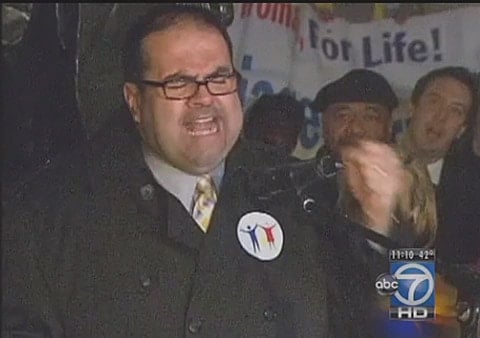 Busloads of members from the 10,000-strong City of Praise congregation in Prince George's County unloaded in Annapolis yesterday for a rally against same-sex marriage. Many said they were infuriated by First Lady Katie O'Malley's remarks last week that those who voted against the marriage equality bill last session were "cowards".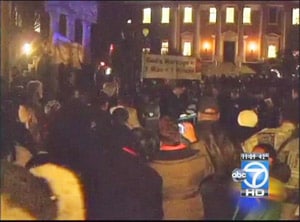 "Adam and Eve – yes! Adam and Steve – no!", the congregants chanted, suggesting that they disagree with homosexuality in general, and holding up signs with man-woman stick figures on them.
One woman told ABC7 News, "We're not here saying we hate a homosexual male or female, we love you, but we want to share with you the truth, the word of God."
Check out the video, AFTER THE JUMP…
A hearing on the marriage equality bill is scheduled for this afternoon before the Senate Judicial Proceedings Committee. Governor Martin O'Malley is expected to testify.