As the first hearings on a marriage equality bill were held in the New Jersey Senate today, Governor Chris Christie spoke out about the issue at a town hall, the Star Ledger reports: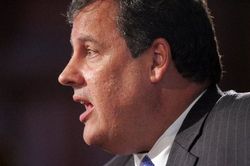 Gov Chris Christie called today for a voter referendum on the fall ballot over the issue of legalizing gay marriage.
If successful, the referendum would change the state Constitution. He urged Republicans in the Legislature to put the matter to voters. But if a bill made it to his desk, Christie said he would veto it.
Speaking in Bridgewater, NJ, Christie said that while he personally opposes gay marriage, he thought the correct course of action was for voters to weigh in on the issue via the ballot. "Let's put the question of same sex marriage on the ballot," Christie said. "It shouldn't be decided by 121 people in Trenton."
Christie has hedged recently on recommitting to veto the bill. Guess things haven't changed. Let's hope for a veto-proof majority.