Pope Benedict addressed the diplomatic corps assigned to the Vatican and said that same-sex marriage threatens the future of humanity, Reuters reports: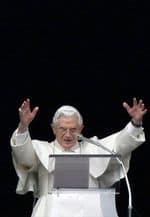 He told diplomats from nearly 180 countries that the education of children needed proper "settings" and that "pride of place goes to the family, based on the marriage of a man and a woman."
"This is not a simple social convention, but rather the fundamental cell of every society. Consequently, policies which undermine the family threaten human dignity and the future of humanity itself," he said.
"The family unit is fundamental for the educational process and for the development both of individuals and states; hence there is a need for policies which promote the family and aid social cohesion and dialogue."
The Pope last week elevated 22 bishops to cardinals, among them New York Archbishop Timothy Dolan, an outspoken opponent of New York's marriage equality law.