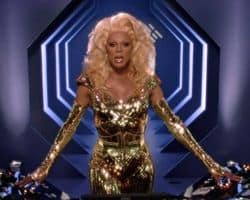 RuPaul is done with political correctness. In an interview with Michelangelo Signorile doomed to get a lot of ugly blowback — and which was recapitulated by Signorile at at HuffPo — she rails against the tranny taboo …
On Lance Bass's apology for using the word "tranny" Rupaul says: "It's ridiculous! It's ridiculous!… I love the word "tranny"…And I hate the fact that he's apologized. I wish he would have said, 'F-you, you tranny jerk!'"
… and against criticism of ABC's defunct Work It …
… Of the ABC sitcom, "Work It," in which two straight men dress in drag in order to get jobs and which has been criticized by gay and transgender activists for mocking transgender women, RuPaul implores the activists: "Don't take life so seriously… We live in a culture where everyone is offended by everything."
… while stumping for the new season of her show, RuPaul's Drag Race, which she says is "influenced by the Gaga-esqe movement of today." And she's not just saying that. Signorile posted a slideshow of this season's contestants, and every single one of them looks like a permutation of Gaga.