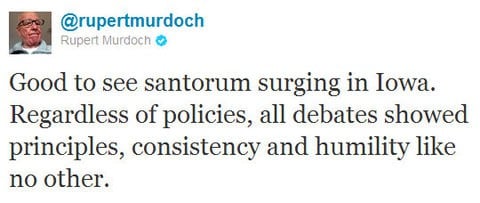 Rupert Murdoch finally joined Twitter and is using the social networking site to do a little cheerleading for Rick Santorum.
As Joe.My.God points out, the Fox News overlord this weekend tweeted, "Good to see Santorum surging in Iowa. Regardless of policies, all debates showed the principles, consistency and humility like no other."
It's a soft, non-committal message but indicates Murdoch prefers a social conservative like Santorum to the more business-oriented GOP frontrunner, Mitt Romney. Though it's unclear whether Murdoch will influence voters, he obviously wants to play a role in this upcoming election. Or maybe he just wants to hire Santorum for Fox News, as he has other Republican political hopefuls.
Having Santorum on Fox News of course is preferable to having him in the White House, something that seemed like an impossibility just a few weeks ago. Now that he's more popular in Iowa, Santorum could – in theory – have a shot at the presidency. I still doubt he has staying power, but stranger things have happened.