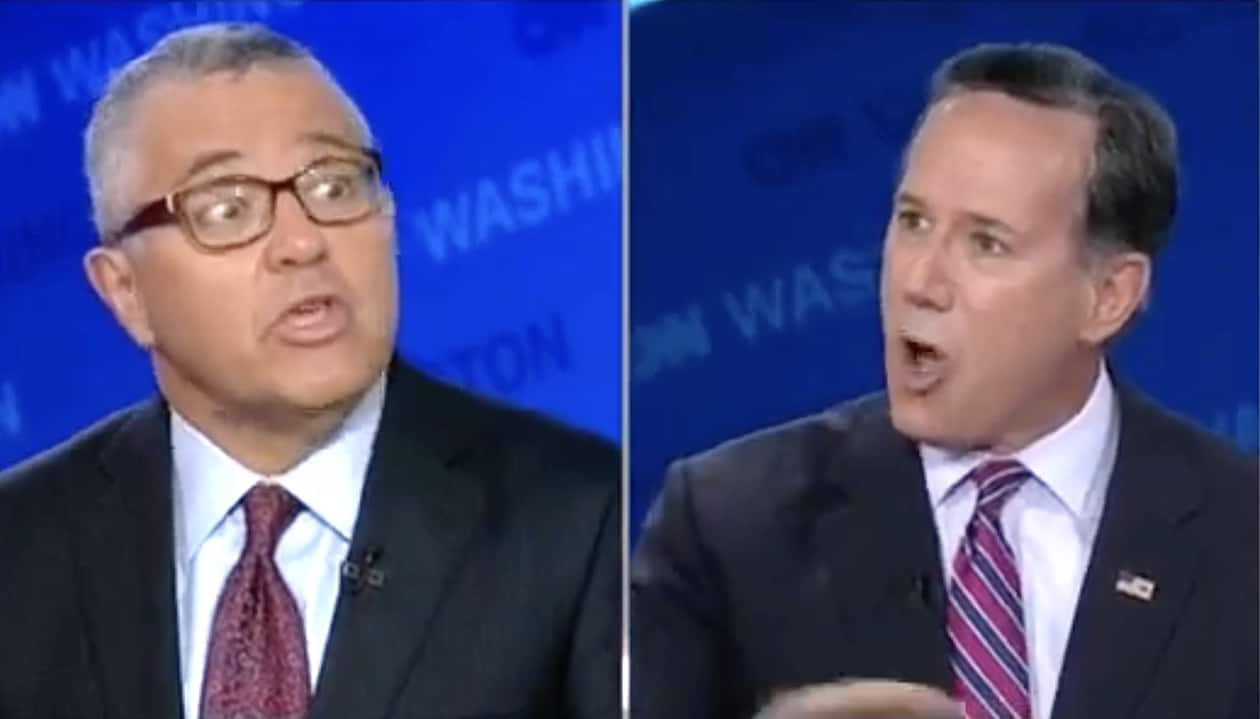 Rick "frothy mix" Santorum exploded at CNN legal expert Jeffrey Toobin after Toobin brought up the fact that "religious freedom" and denying gay people service would continue to be an issue for the Supreme Court. The exchange came during a discussion of the confirmation hearings for Trump's SCOTUS nominee Brett Kavanaugh.
Said Santorum: "The idea that there's a contention that bakers don't allow gay people in their shops, that has never been the issue, and it's not the issue. And you're distorting it! To bake a cake for a ceremony that violates their religious tenets. That's a fundamentally different thing than walking in the door and quit trying to be extremist on these things when that's not the issue and you know it's not the issue!"
"I totally know it's the issue," responded Toobin.
"No one said you can't walk in and buy a cupcake at a bakery," spat Santorum.
Replied Toobin: "So there are some products gay people can buy and some products they can't."
Frothed Santorum: "It's a matter of using someone's artistic talent to design something for a specific purpose. Quit trying to distort it!"
"How about when an inn owner says my inn is a product of my artistic and personal vision so an inn owner says I don't want gay people staying here?" asked Toobin. "That's what the next case is about."
"And I would probably side with you on that," replied Santorum. "Because if you open your inn up for public accommodation then you have to take everybody. But if you're asking someone to specifically perform an act in concert with an act that is contrary to their religious values then that is different. And you know the difference."
Replied Toobin: "Rick, you keep saying that these cases are so easy. Watch what happens. Watch how gay people are being denied service just like after the civil rights act passed."
Watch:
https://www.youtube.com/watch?v=28WPINfKa-A