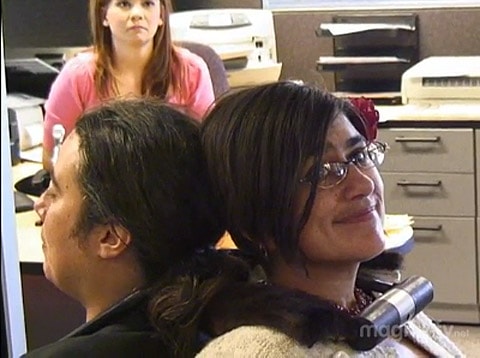 A lesbian couple of nine years was arrested yesterday after locking themselves to one another in the marriage license area of the Bernalillo County Clerk's Office in downtown Albuquerque, New Mexico.
Watch it all go down, AFTER THE JUMP…
April Parker, 38, and Amanda Rich, 31, were part of a group of about 40 people protesting for marriage licenses for same-sex couples.
"Gay, straight, black, white, marriage is a civil right!" the group chanted, as Parker and Rich used bike locks to attach themselves back-to-back in two chairs inside the office.
Bernalillo County Sheriff's Lt. David Knowles told Parker and Rich they could stay in the clerk's office until 5 p.m., provided they did not interrupt business. A few minutes later, the women moved their chairs to block others from getting marriage licenses.
The demonstration in which Parker and Rich were involved was just one of 20 in six states organized by GetEqual and Marriage Equality USA meant to coincide with Valentine's Day.
Watch ABQ Journal's report on the arrests, AFTER THE JUMP…