Chicago Mayor Rahm Emanuel promised to push for marriage equality in Illinois yesterday, the Sun-Times reports.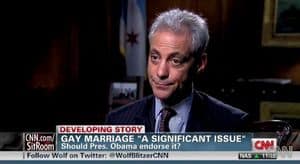 Said Emanuel:
"Before I was a mayor, I worked hard on the civil union legislation. I made phone calls. And when it passed, I was at Millennium Park, when we had the first [ceremony]. In fact, I presided over a series of ceremonies in my office…When you have two loving adults, that should be held up as a positive — whether it's male-female, or, in this case, female-female or male-male. That's proper. We shouldn't as a state discriminate…Recognizing the love between two adults also has a series of rippling effects through a series of policies — public and private — that we all take as a given and is not true for gays and lesbian couples. So I'll push for it because it's consistent with the values base that I think is right as a city, as a state and as a country. … I support both the civil union and ultimately gay marriage because I think discrimination that's embedded deeper than just recognizing a marriage or recognizing a civil union is wrong."
Emanuel told CNN's Wolf blitzer last June that he hoped Illinois would move in the direction of marriage equality.
Illinois lawmakers introduced a marriage equality bill last week.