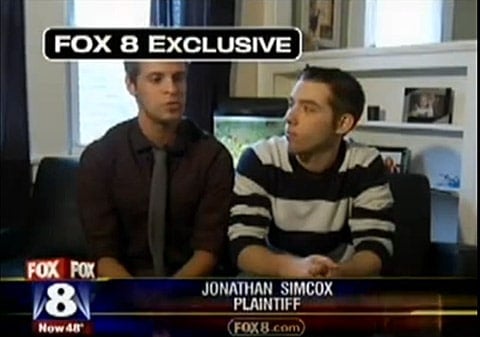 Jonathan Simcox and his partner Steven Ondo have filed a federal lawsuit in U.S. District Court claiming they were harassed, beaten, and humiliated by police in a series of events stemming from an argument with a neighbor who is an officer.
In the first incident, Simcox and Ondo said they were brought to jail in their underwear following an altercation with the neighbor. About a week later, another incident occurred:
According to the lawsuit, "6 or 7 members of the SWAT/and or Warrant Team" were on a sweep that day. Ondo and Simcox said officers then informed them they were wanted on a warrant that was issued for, "assaulting a peace officer."
The men said each time they tried asking questions, the officers became increasingly violent.
"The officer in the glasses grabbed me by my shirt, and punched me twice in the face, after he punched me, he threw me up against the wall," said Simcox.
Simcox says at the time of the arrest, he and his partner were wearing only underwear and t-shirts. When Simcox's brother asked police if he could get them some pants and shoes, one of the officers allegedly responded by saying, "You can go get them shoes, but faggots don`t deserve to wear pants in jail."
Watch FOX8's report on the charges, AFTER THE JUMP…