Maryland senators recessed today before taking up the marriage equality bill at the request of Republicans, the Baltimore Sun reports: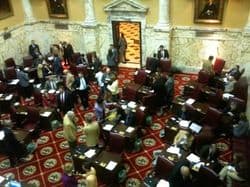 The move was not surprising. Senate rules allow opponents to halt debate for a day to prepare amendments and sharpen their arguments.
Senate PresidentThomas V. Mike Miller said from the rostrum that he believes the votes are there to pass the measure. "I don't anticipate a single vote has changed," Miller said.
Senate Republican whip Sen. Ed Reilly requested the delay. He was supported by Sen.C. Anthony Muse, aPrince George's CountyDemocrat. Both lawmakers said they will offer amendments to the bill.
The measure is expected to pass with a final vote happening tomorrow night or Friday morning. Supporters of the bill say they have enough votes to halt a possible filibuster.
A similar bill passed the Maryland Senate last year 25-21.