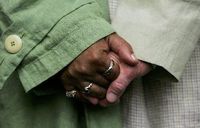 According to a new Pew study, rates of so-called "multi-racial" marriage have more than doubled in 30 years:
About 15% of all new marriages in the United States in 2010 were between spouses of a different race or ethnicity from one another, more than double the share in 1980 (6.7%). Among all newlyweds in 2010, 9% of whites, 17% of blacks, 26% of Hispanics and 28% of Asians married out. Looking at all married couples in 2010, regardless of when they married, the share of intermarriages reached an all-time high of 8.4%. In 1980, that share was just 3.2%.
The increasing number of Americans marrying outside of their "race" roughly correlates with the rise of acceptance of mixed marriages, which has roughly doubled since 1986:
… nearly two-thirds of Americans (63%) say it "would be fine" with them if a member of their own family were to marry someone outside their own racial or ethnic group. In 1986, the public was divided about this. Nearly three-in-ten Americans (28%) said people of different races marrying each other was not acceptable for anyone, and an additional 37% said this may be acceptable for others, but not for themselves. Only one-third of the public (33%) viewed intermarriage as acceptable for everyone.
If there's any bad news in the study, it's that the tendency to "marry out," as Pew calls it, is not equally pronounced across all segments of the population, which — if I'm reading the results right — seems to suggest that some people might have difficulties marrying at all. In 2010, a quarter of all black men who became married did so with non-black partners, while only 9% of black women married out. That trend roughly reverses for for Asian-Americans, with 35% of Asian women "marrying out" compared to only 17% of Asian males. The number hints that there may be far more black women and Asian men who are uninterested in marrying or unable to marry members of other "races" than there are appropriate potential mates for them. (Black women have known about the shortage of marriageable black men for a while, and are unhappy about it.)