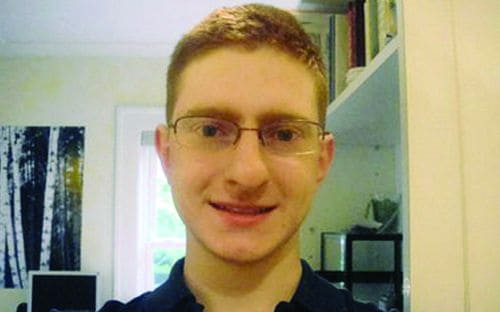 The New Yorker has published a long, thoughtful story suggesting that Tyler Clementi wasn't killed by homophobes. At least, not the way we might think.
It became widely understood that a closeted student at Rutgers had committed suicide after video of him having sex with a man was secretly shot and posted online. In fact, there was no posting, no observed sex, and no closet. But last spring, shortly before Molly Wei made a deal with prosecutors, Ravi was indicted on charges of invasion of privacy (sex crimes), bias intimidation (hate crimes), witness tampering, and evidence tampering. Bias intimidation is a sentence-booster that attaches itself to an underlying crime—usually, a violent one. Here the allegation, linked to snooping, is either that Ravi intended to harass Clementi because he was gay or that Clementi felt he'd been harassed for being gay. As he sat in the courtroom, his chin propped awkwardly on his fist, his predicament could be seen either as a state's admirably muscular response to the abusive treatment of a vulnerable young man or as an attempt to criminalize teen-age odiousness by using statutes aimed at people more easily recognizable as hate-mongers and perverts.

Don't have a job? Blame Obama. (But if you've got one, thank a GOP governor.)

" … the U.S. first kills people with drones, then fires on the rescuers and others who arrive at the scene where the new corpses and injured victims lie."

Barack Obama's really insistent that war with Iran is a last option. Is he protesting too much?

Read as a snickering Ivy-leaguer demonstrates his contempt for underpaid retail slaves.

T-Rex is incompetent but adorable.

The legacy of the Kennedy presidency just gets weirder by the year:
Mimi Alford, then Mimi Beardsley, interned at the White House in the summer of 1962, quickly caught the president's eye. The 19-year-old joined the 45-year-old president for a noon swim four days into her internship. Later that day, he took her virginity in "Mrs. Kennedy's room."

"After he finished, he hitched up his pants and smiled at me." Alford says their sex life was "varied and fun" and describes an affair that was more than just sex. They apparently spent an "inordinate amount of time taking baths" and listened to music together. He confided in her during key personal and professional moments, such as when his infant son died and during the Cuban Missile Crisis. But he never kissed her on the lips.

At one point, during another noon swim, Kennedy allegedly asked Alford to "take care" of an aide …

This model has a 20-inch waist and a corset. Thoughts?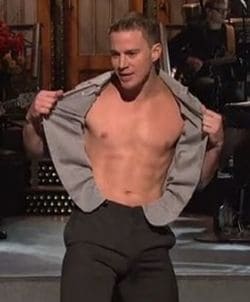 Meet a lesbian atheist single mother from Point, TX (pop. 792), along with other nonbelievers in difficult situations:
… One by one, members of [Harry's] new family turned against him because of his lack of belief. Harry doesn't see any of his American family any more. "The last one I saw was my cousin, Ronnie. Every time he invites me over to dinner, he turns to religion. Last time I saw him, I didn't back out, I took him full on.

 "I've been told things like 'I hope you have an accident, die and go to hell.' So that's what I've been up against."

Madonna's performance was fine, but maybe a little too classy. Football's over the top! A little dumb! Kind of crazy! Arguably unnexessary! Kind of like this!

Last night, Tatum Channing stripped during his on SNL monologue. Watch AFTER THE JUMP …