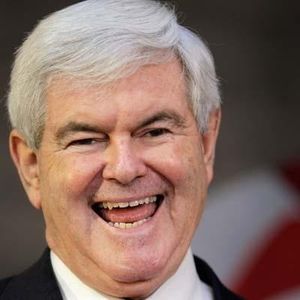 Gingrich is still against marriage equality — but he appreciates how, in Washington, we're going about it "the right way."

 Retired Presbyterian Rev. Jane Sparh censured for performing gay weddings when they were legal in CA:
"The issue is not simply the same-sex ceremony," the commission wrote in its majority opinion decision. "It is the misrepresentation that the Presbyterian Church … recognizes the ceremony and the resulting relationship to be a marriage in the eyes of the church."

The censure constitutes an official rebuke, but does not carry additional penalties such as or exclusion from church services or ex-communication.

The commission, made up of 15 ministers and elders from around the country, held a hearing on Spahr's case in San Antonio last week. The six members who voted against censuring Spahr said punishing her sends the message that gay couples "are children of a lesser God."

 Somehow, this tale of a Grindr affair that wasn't was Salon's lead story yesterday:
… But the most unsettling experiences occurred when I saw Brian. I panicked when I passed him on my bike. I would pedal faster so he didn't recognize me. Once, I saw him standing on my subway platform at the bottom of the stairs, but instead of introducing myself, I turned around and waited for the next train. I'm not sure what I was afraid of — awkwardness, I guess. I mean, what do you say to someone whom you've never met, but whom you've seen naked? But mostly, I was afraid that if I met him, he wouldn't live up to my elaborate fantasies, and I'd have to end it all.

 National Review editors to Rick Santorum: "Stop tipping your hand!"
… He is one of us, he has fought for our causes, and he has the political scars to prove it. Santorum is not one of those Republicans about whom Richard Brookhiser once remarked, "In their hearts they know they're wrong." He seems serenely confident that with enough time he can change anyone's mind on the issues. But he has not always shown that he knows how to pick his battles wisely, or that he understands that voters want a president with a suitably modest conception of a president's proper role in national life …

If he does not heed this lesson, he risks doing damage to the causes he rightly holds dear. Already his inopportune remarks about contraception have lent an undeserved credibility to liberaldom's claim that a Republican "war on contraception" rather than a Democratic attack on freedom is what underlies the debate over the Obama administration's new regulations. 

We have defended Santorum many times in the past and will happily continue to do so. We do wish he would leave himself exposed a bit less often. 

 Ten women arrested in Cameroon on charges of lesbianism.
 The grieving family of Darius Frazier thinks he was killed because he lived as a woman.
 J.K. Rowling's new novel is … a murder mystery!

 WashPo does puff piece on institute which claims to teach … magic!
Howard Broadman wants to see as much as he can before age slows him down, but he wonders if he might have ventured too far this time. He takes a seat at a long wooden table across from a man wearing a cap with a firefighter emblem. Five other people fill the plush white chairs around them, but soon Broadman is listening only to the firefighter, watching a spoon dangle between the man's fingers.

"I've done other programs here," the firefighter is saying. "In one, we learned to bend spoons with our minds."

 At last — the Dictionary of American Regional English:
… Such was a particularly nerve-racking day in the life of one of America's most ambitious lexicographical projects, which culminates with the publication by Harvard University Press of Volume V (Sl-Z) next month, a mere 50 years after the project was inaugurated by Frederic G. Cassidy, an exuberant Jamaican-born linguist given to signing off conversations with "On to Z!"

Mr. Cassidy, who died in 2000, did not make it to the end of the alphabet. But to scholars and language lovers the work he set in motion is an invaluable guide to the way Americans not only speak but also live — a homegrown answer to the Oxford English Dictionary, served up with heaping sides of "slump" (cobbler), "turkey cheese" (cottage cheese) and "wapatuli" (a potent Wisconsin punch).

 Reaction shots: See hundreds of actors and actresses learn they have — or, more frequently, haven't — won Academy Awards.

 Why does movie violence sound the way it does? How'd it get so squishy?

 Singer/songwriter/Peter Gabriel impersonator Gotye is very impressive. Five friends covering him with one guitar? Even moreso! Watch AFTER THE JUMP …