The Judiciary Committee of the New Jersey General Assembly heard more than five hours of often heated testimony this afternoon on  the Marriage Equality and Religious Exemption Act before advancing the bill along party lines in a 5-2 vote, the Asbury Park Press reports.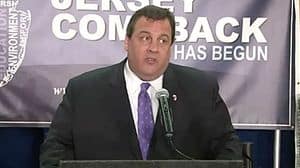 Bloomberg reports that the bill still needs to pick up votes in the full Assembly:
Democrats have about 34 Assembly votes of the 41 needed to pass the measure and "are picking up more every minute," said Assemblyman Reed Gusciora, a Democrat and a co-sponsor.
The bill needs 21 Senate votes to move to Christie's desk. Senate Democrats have scheduled a Feb. 13 vote by the full chamber, Derek Roseman, a spokesman for Senate President Stephen Sweeney, said in an e-mail.
Governor Chris Christie today called himself "magnanimous" for calling for a voter referendum on same-sex marriage:
"The polls that I've seen show that if this goes to the ballot, I lose," the Republican governor, who opposes same-sex marriage, told about 400 people at a town-hall meeting in Denville. "How much more magnanimous could I be?"
Christie, 49, has said he would veto a law permitting gay nuptials, arguing that voters should decide the issue and that he would abide by the results. The first-term governor said he would direct Republican lawmakers to support a bill that would create a November referendum. Democrats said gay marriage is a civil right that shouldn't be subject to a popular vote. The Senate president said today there won't be a referendum.