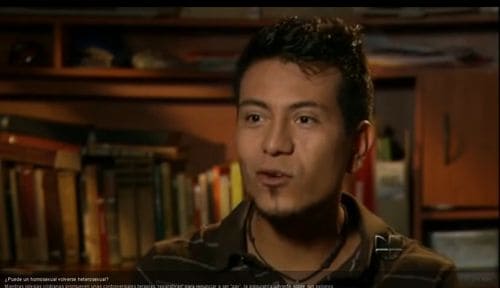 On January 31st, Univision, the United States' largest Spanish-language TV network, aired a lengthy interview with an "ex-gay" therapist and one of his allegedly successful patients in Guadalajara, Mexico. I couldn't catch many details of the degayification methods under discussion — my Spanish isn't so good — but they seem to have involved talking, music, Jesus, and non-alcoholic beverages. At the end of the spot, the anchor asked the audience to weigh in: Does homosexuality result from nature or nurture?
Ricky Martin didn't like the segment so much, and neither did GLAAD. Immediately after the spot aired, Ricky tweeted "El heterosexual nace o se hace?" — were you born straight or not? And last night, GLAAD took Univision to task for giving short shrift to the overwhelming evidence that degayification therapies are generally harmful and ineffective, not to mention unnecessary. From GLAAD's release:
The [Univision] segment essentially applauded a man who claimed he "successfully became straight," and interviewed at length a so-called expert therapist who was allowed to make false claims about success in changing sexual orientation. Although sparked by reports of hundreds of clinics in Ecuador that attempted to change their victims' orientation, sometimes with torture tactics, the show neglected to appropriately include victims of "conversion therapies." The segment also neglected to report that organizations like Exodus are often not licensed and have been discredited by major mainstream psychological associations.

The American Psychiatric Association states that "The potential risks of 'reparative therapy' are great, including depression, anxiety and self destructive behavior, since therapist alignment with societal prejudices against homosexuality may reinforce self-hatred already experienced by the patient" (from its position statement on Psychiatric Treatment and Sexual Orientation). The Ecuadorian government has discredited and declared illegal these so-called treatments, and has affirmed its commitment to investigate any centers that offer them.
Watch the original Univision broadcast AFTER THE JUMP …