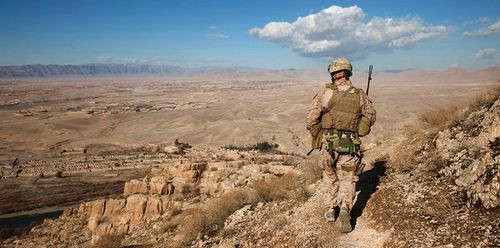 Lately, the New York Times has been publishing incredible long-form journalism lately. This week, they published the most beautiful, heart-broken war reporting I've seen in years; "The Hard Way Out of Afghanistan":
"People ask me all the time, 'Can the Afghan National Security Forces hold what we've got and maintain security?' " General Toolan told me. "I say, absolutely: they're better-trained, better-equipped and better-liked than the insurgency. They can do it. However, what is important is their will. Their will is a function of their leadership. And their leadership is oftentimes susceptible to corruption." This perhaps would be the greatest tragedy of all: if the gains earned in Helmand by the coalition since 2006 were lost because of a lack of will. For what would the British and Americans have sacrificed so much? To what end would we be able to say 821 of them gave their lives?

Before I left Sangin, I attended a memorial service for two marines who were killed a week earlier by an I.E.D. The centerpiece of any memorial for a marine is the formal construction of his battle cross. The rifle stuck bayonet down, the helmet set atop the butt stock, the dog tags draped on the pistol grip, the boots placed on the ground. The end result is a movingly personlike assemblage of the dead man's essential gear. What holds it all together is the rifle. Clearly, the rifle is meant to symbolize a kind of linchpin — the singularly vital thing. Yet somehow, it is the boots, their laces neatly looped and tied, that are most affecting. It is the boots, not the rifle, that most evoke an absence.

What are dying people's top five regrets?

Journalistic ethics: Should gay cruises be called gay cruises?

Miley Cyrus supports marriage equality, suffers Christian backlash:
… Cyrus reveals the threats and hate mail she received in 2010 after she tweeted a photo of a tattoo on her finger, which with the message "all love is equal" demonstrated her support for same-sex marriage. Cyrus writes that she was mocked by some fans, adding "They said, 'What happened to you? You used to be a Christian girl!' And I said, 'Well, if you were a true Christian, you would have your facts straight. Christianity is about love.'"

Is this conservative Christian's discussion of moral relativism a straw-man argument, or is there something to it?

The Advocate on "The Wit, Wisdom, and Rage of of Gran Fury."

Love finds a way! Incarcerated Swedish cannibal finds love with incarcerated Swedish vampire:
He killed mother-of-five Helle Christensen – his girlfriend at the time – by cutting her head off, eating parts of her body and then boasting about it on the Internet.

She stabbed a single father to death and then drank his blood – posing in a picture online, before her arrest, with blood dripping from her lips, holding a power saw and a knife.

… the diabolical duo live in hope. Gustafsson posted on the Internet this week: 'We want to live together at some point, have dogs and pursue our hobbies: piercing and tattoos. '

Her cannibal fiance added: 'I love Michelle. Have never met anyone like her. I want to live a non-criminal life.'

Georgia judge decides that Obama is a natural born citizen and can therefore be President of The United States. Obama's lawyer never bothered to show at the hearing. Some people are really upset:
Obama's action, he said, "amounts to no less than a declaration of total dictatorial authority. Such declaration cannot go without response from this court. Failure to respond to the defendant's contumacious conduct would amount to an admission that this court and the judicial branch as a whole do not have the authority granted to them under articles III and IV of the Constitution."

The controversy over Obama's eligibility dates to before his election in 2008. Some contend he was not born in Hawaii and that the birth documentation the White House released in April is a forgery.

Others say it doesn't matter where he was born, as his father never was a U.S. citizen.

The Constitution requires presidents to be "natural-born citizens," and experts say that the Founders regarded it as the offspring of two U.S. citizens.

… Top constitutional expert Herb Titus contends that a "natural-born citizen" is born of parents who were U.S. citizens at the time of the birth. The argument also is supported by a 19th-century U.S. Supreme Court decision, Minor vs. Happersett in 1875. The case includes one of very few references in the nation's archives that addresses the definition of "natural-born citizen."

That case states: "The Constitution does not in words say who shall be natural-born citizens. Resort must be had elsewhere to ascertain that. At common law, with the nomenclature of which the framers of the Constitution were familiar, it was never doubted that all children born in a country of parents who were its citizens became themselves, upon their birth, citizens also. These were natives or natural-born citizens, as distinguished from aliens or foreigners."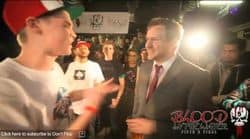 Stump for marriage equality with your license plate in South Carolina.

(HT to Jezebel.) Everyone's saying this is a rap battle between a 17-year-old named Blizzard and his teacher. That's probably not true, but I wish it was. Because if it was — wow! What an education! The battle starts around 1:25. Check it out AFTER THE JUMP …