Ann Werner writes about a disturbing incident over the weekend at a Maryland church: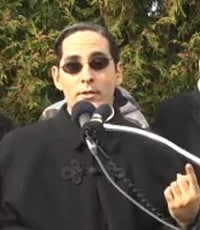 Something terrible happened this past weekend in Maryland and the fact that it was Maryland, a state that has just proclaimed that all are equal and has enshrined that concept into state law, goes to highlight the lengths to which the right will go. In this instance, the right was personified by Father Marcel Guarnizo, who officiated at the funeral of a former family member of mine. She was no longer a family member because I divorced the man who was her blood relative. But with social media these days, a person can remain in touch with those who, although there is no longer a family connection, are still people who are valued.
My friend Barbara, the daughter of the deceased woman, was denied communion at her mother's funeral. She was the first in line and Fr. Guarnizo covered the bowl containing the host and said to her,  "I cannot give you communion because you live with a woman and that is a sin according to the church." To add insult to injury, Fr. Guarnizo left the altar when she delivered her eulogy to her mother. When the funeral was finished he informed the funeral director that he could not go to the gravesite to deliver the final blessing because he was sick.
I will tell you a little about the woman who drove that priest from the altar. She is kind, she is smart, she is funny and she works hard promoting the arts. She pays her bills, she cares deeply for her family and she loved her mother and her mother loved her right back. And now she will never set foot in a Catholic church again and who can blame her?
Read Werner's full account at the link below.
Priest Walks Out Of Woman's Funeral Because Of Her Gay Daughter [addicting info]