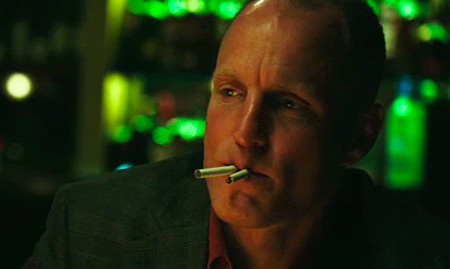 Woody's  dirty cop is never satisifed: two cigarettes, several women, dozens of problems.

YOUR FEATURE PRESENTATION
 Woody Harrelson hits movie screens with such galvanizing force in RAMPART this weekend, you might be surprised that Hollywood didn't cower and hand him an Oscar nomination, trembling. It's getting harder and harder to remember that he first came to fame as lovable naive "Woody" on Cheers. His turn in Rampart is closer to that worldly carnality from The People Vs. Larry Flynt but drained of any subversive joy. Woody is playing an obstinate corrupt cop named Dave Brown. Brown's moniker within the precinct is the not-so-charming "Date Rape" which he supposedly garnered from the killing of a rapist years earlier. It's a piece of street justice that he will neither confirm nor deny but it sounds entirely plausible given his disdain for legality.
When Brown is caught on tape beating a suspect, he's put on probation. The Rampart Precinct has abundant PR problems and Brown, who is loudly homophobic, xenophobic and racist ("I hate all people equally," as he explains it) is one of their largest ones. So begins his downward spiral. It's not just his dirty cop behavior. His personal life is even messier. Brown is an unrepentant womanizer and in addition to one night stands (Broadway wonder Audra McDonald in a memorable cameo) and randy lawyers (Robin Wright, sensational) he's still living with and sleeping with his two ex-wives (Anne Heche and Cynthia Nixon), who are sisters. The women he's not sleeping he's either purposely or accidentally antagonizing like his lesbian daughter Helen (Brie Larson from United States of Tara).
 MORE AFTER THE JUMP…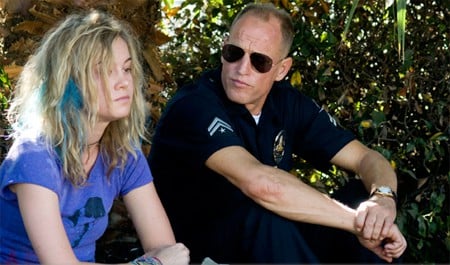 "How's school?" he asks her, remembering to play Dad.
"It sucks," she replies more exhausted than angry. "It's full of candy-ass future fags and dykes like me. Those are your words not mine." 
He tells her he never said that but you don't believe him. It sounds exactly like the kind of hostile thing he'd say. Earlier in the movie he is upset at a racy piece of collage that Helen has made and hypocritically complains about the profanity and nudity. He asks what the collage means and she mocks him pretending that he doesn't even know what collage is. "It's like these little bits of paper… and you cut them out and glue them together. They make another picture."
Rampart could actually be described this way. The movie's scenes often feel like separate vignettes, overlapping with sound and texture. Once they're all crammed together they display a rude, naked and uncompromising portrait of a very difficult man. Rampart is opening in limited release after a failed Oscar run and though it's basically a character study — fans of challenging performance and ensemble acting will like it most — it's the kind of movie they probably should've sold like a pure cop thriller just to get asses in seats. It's not that it's without shootouts, it's just that Woody Harrelson is the gunpowder. 
ALSO OPENING: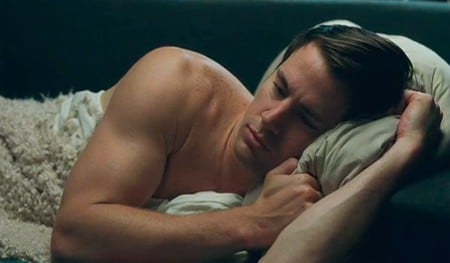 In THE VOW (pictured above) Channing Tatum must win back the heart of his amnesiac wife Rachel McAdams. We recommend showing her clips from your upcoming male stripper film Magic Mike, Channing!; The Best Foreign Film Oscar Nominee and Holocaust drama IN DARKNESS from the director of 90s classic Europa Europa; Denzel Washington returns as a rogue CIA Agent (are there any other kind in movies?) in SAFE HOUSE. Should Ryan Reynolds trust him?; In the sequel JOURNEY 2 THE MYSTERIOUS ISLAND Josh Hutcherson brings The Rock along for his new adventure;  And George Lucas continues to pee on the Star Wars legacy by converting the execrable PHANTOM MENACE into 3D. Don't encourage him! 
Nathaniel Rogers would live in the movie theater but for the poor internet reception. He blogs daily at the Film Experience. Follow him on Twitter @nathanielr.