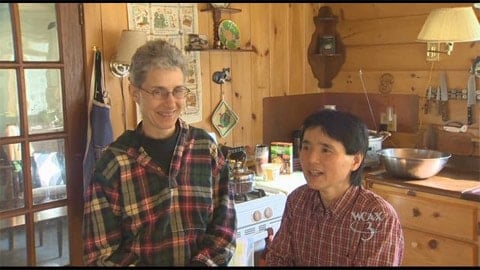 Yet another married binational gay couple is being hit with a deportation threat over DOMA, WCAX reports:
Frances Herbert and Takako Ueda met in college and have known each other for 30 years.  They have shared countless dinners, laughs and tears.  "I knew that she was the one," Ueda said.
After college Ueda returned to Japan and started a life with a husband and new home.  But after a visit from Herbert in 1999, her life changed again. 
"When I die. When I put my one leg into a coffin, I don't want to regret," she said.
Ueda divorced and moved to the United States. The couple have been living together ever since and married last year. But in December — another change. They received a letter from the U.S. Department of Homeland Security, which denied Ueda's request to stay in the county, a right granted to heterosexual spouses of different nationalities. Sadness quickly turned to anger. The letter states that because the Defense of Marriage Act (DOMA) defines a marriage as one man and one woman, Ueda had to go.
Watch their touching and infurating story, AFTER THE JUMP…
Video may take 10-15 seconds to load.