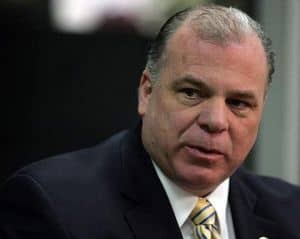 With marriage equality headed for votes in both houses of the New Jersey legislature next week, New Jersey Senate president Stephen Sweeney appeared Friday on The Brian Lehrer show on WNYC, the NPR affiliate, to talk about the bill's prospects. He also explained, perhaps not entirely satisfactorily, why he abstained from a marriage equality vote in 2010:
It was a political calculation … you know, I didn't want to be part of a bill that was gonna fail. And it was the wrong position to take. Because this is about civil rights, and you can't take a pass on civil rights … So, you know, we started working on this, and I'm showing the importance of this — this is no game, it's not politics, it's civil rights … It is absolutely gonna pass [the Senate] on Monday, and I expect it to pass the assembly on Thursday, and it's gonna go to the governor's desk.

… There's a whole lot that's taken place since [the last vote]. Which is people like myself recognizing that this isn't a political issue, it's a civil rights issue, and when you talk about, well, put it on the ballot — you know, the majority will always deny the minority, in almost every example, of giving what they already have. So no, we're not doing that. As a legislative body it's out responsibility to do the right thing.
But Sen. Sweeney says he nevertheless expects Gov. Chris Christie to fulfill his promise to veto any marriage equality bill to cross his desk:
Do I have any doubt? No, I expect him to veto it. I would hope, as a decent human being that I think Chris is, the governor is, that he would look at it the way we looked at it. He doesn't have to sign it. He could even let it pass by not signing it … But if he vetoes it, when he vetoes it, well, we have two years.
Listen to the interview here.