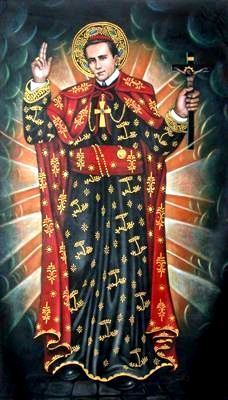 A week ago yesterday, a lesbian named Barbara Johnson attended her mother's funeral in Gaithersburg, MD. It was a Catholic funeral. Father Marcel Guarnizo, the cleric who presided over the ceremony, doesn't like gay people: during communion he refused to give the grieving daughter a piece of the Eucharist. From The Advocate:
Barbara Johnson says that Father Marcel Guarnizo told her, "I cannot give you communion because you live with a woman, and in the eyes of the church that is a sin."
Denying Ms. Johnson the Eucharist apparently wasn't enough for Fr. Guarnizo, who reportedly "left the alter" when Ms. Johnson delivered her mother's eulogy, and later refused to attend the gravesite. 
Fr. Guarnizo is a parochial vicar at St. John Neumann, which means he is subordinate to St. John Neumann's pastor. That pastor, Rev. Thomas LaHood, has since apologized to Ms. Johnson, as has his own superior, the Rev. Barry Nestout, an auxillary bishop. According to the AP, the latter gentleman has released a statement which reads, in part:
In my years as a priest, I have encountered many pastoral situations and know that kindness to those experiencing personal loss is a necessary part of the church's call to clarity. The fact that you did not experience this is a cause of great concern and personal regret to me.
Ms. Johnson isn't mollified, and is calling for Fr. Guarnizo's job. Meanwhile, Rev. Nestout may wish to discuss his great concerns and personal regrets with Fr. Guarnizo's immediate supervisor, Rev. LaHood. For although Rev. LaHood has apologized to Ms. Johnson, it wasn't a month ago that Rev. LaHood wrote this article for the church's weekly bulletin, in which he equated same-sex relationships with slavery.
Wrote LaHood:
The contrary argument is an account of the human person that says that we are radical individuals and that the only rule of behavior is that each of us is free to follow his impulses and desires as long as we do not hurt anyone else. This is a very negative view of human nature. Its basic acknowledgement is that we owe nothing to anyone else, either individually or to society as a whole. Under this account, the only moral question anyone has to answer in regard to a particular action is this: "is this action what I want to do and will it advance the fulfillment of my desires without interfering with anyone seeking to fulfill his desires?" This rule denies that any of us owes anything to anyone else. This is the moral compass behind contraception, abortion, no-fault divorce, in-vitro fertilization, embryonic stem cell research, slavery, and same sex marriage. 

The invocation of slavery and same sex marriage in the same category may seem startling. But, they both come under the same moral category. 
No good priest would grant Holy Communion to a slave holder. Would he?