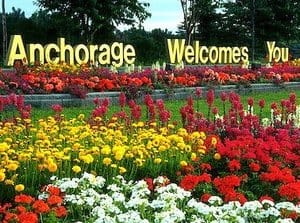 As you may know, Anchorage is currently embroiled in battle against anti-gay discrimination.
In less than two weeks, the Alaskan city's residents will vote on whether to include sexual orientation and gender identity in its anti-discrimination ordinance. While equality advocates are optimistic about their odds of passing Proposition 5, the Los Angeles Times reports that conservative Christians are ramping up their opposition and that it may be a drag out fight:
Antidiscrimination advocates say a new initiative on the April 3 municipal ballot — gaining almost more attention in Alaska these days than the U.S. presidential race — has won unprecedented support from faith leaders, including the Episcopal bishop and some 50 other churches and religious groups.

Twice as many churches have mobilized to defeat the measure.

Now, thousands of dollars in contributions from grass-roots advocates on both sides, as well as from donors outside Alaska, are funding an onslaught of television and radio ads as Alaska becomes the latest front in the national debate over gay rights.

…

Critics have mobilized church congregations and gathered support from religious conservative groups outside Alaska to warn Anchorage residents that the ordinance could strike a blow to business owners and jeopardize religious freedom.

In a television commercial, they warned that a gay bar owner who wanted to hire gay waiters and a Christian bookstore owner who wanted to hire straight booksellers could both run afoul of the ordinance if it is passed.

"No. 1, we don't believe that there is widespread discrimination that's preventing gays and lesbians from having jobs and getting loans and housing. There's ample evidence from those in the [gay and lesbian] community who say Anchorage is a very tolerant place," said Jim Minnery of the Alaska Family Council, who is heading the No-on-5 Protect Anchorage campaign.
Journalist Kim Murphy concludes, "As the campaign goes into its final week, no one is betting confidently on passage." Sounds pretty dire. Anyone interested in learning more about Yes on 5, the equality initiative working to pass Anchorage's anti-discrimination measure, check out their website.