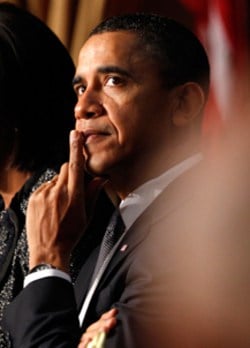 With Democrats increasingly vocal about including marriage equality in their official party platform, it's looking more likely that President Obama may "evolve" toward full acceptance of same-sex nuptials before the election.
Well, that's what an insider told Chris Johnson at the Washington Blade:
The chances that Obama will make such an announcement before the election are looking better than in previous months as the issue receives growing media attention and voters in a handful of states face ballot initiatives this year.

An informed source, who agreed to speak on condition of anonymity, said "active conversations" are taking place between the White House and the campaign about whether Obama should complete his evolution on marriage and that the chances of him making an announcement are about 50-50.

According to the source, the administration would like to unveil another major pro-LGBT initiative before the November election, and an endorsement of marriage equality could fit the bill. But concerns persist on how an endorsement of same-sex marriage would play in four or five battleground states.

"We're talking about the Michigans, the Ohios, the Illinois of the world; the real battleground states in which voters are already conflicted and may factor this into their judgment," the source said.
Though Obama wants to pass one more pro-LGBT policy, it may not be marriage. There's also speculation that he'll sign an ENDA-type executive order to protect federal employees from discrimination based on sexual orientation or gender identity. There's reportedly already a draft order drawn up, so these developments could go either way, not both ways, says the source.
"My feeling is you'll get one, [but] you won't get both before Election Day."