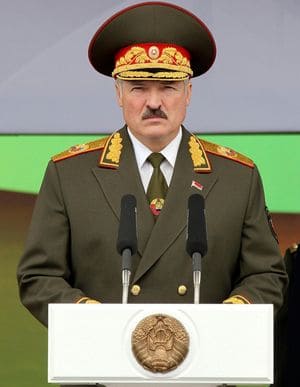 The formerly Cummunist Belorussian strongman Alexander Lukashenko has always been a uniquely childish presence on the world stage — he is, for example, the only European leader who enjoys being called "daddy" by his subjects — but never moreso than this weekend. Responding to a recent EU censure, in which Lukashenko was referred to as a "dictator" by German Foreign Minister Guido Westerwelle, Lukashenko told a crowd gathered at a ski event in Minsk: "Better a dictator than gay."
It wasn't the first time Lukashenko had gone after Westerwelle. From Raw Story:
Lukashenko last year said he had once told Westerwelle, who is openly gay, during a meeting that "he must lead a normal life".

He later apologised for his remarks but added that he "did not like gays."

The 57-year-old former collective farm boss — once identified as Europe's last dictator by Washington — has left his ex-Soviet nation in growing diplomatic isolation over his nearly 18-year rule.
Recent months have seen a withdrawal of Belarussian representatives from EU states and European ambassadors booted from Minsk, the Belarussian capital, in protest over EU sanctions against the formerly Soviet "republic."