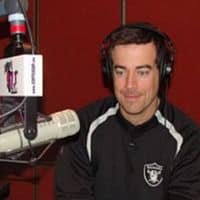 Carson Daly is offering some more contrition for his homophobic rant yesterday.
The radio and television host found himself under fire after saying that gay people would have been incapable of subduing the Jet Blue pilot who lost it mid-flight this week, because of course we're all weakling weenies.
Soon after, Daly tweeted a quick apology, writing, "I attempted to make fun of myself & offended others by mistake. I sincerely apologize."
Now, after having an old-fashioned sitdown with GLAAD, Daly has more to say:
We live in a time where gay, lesbian, bisexual and transgender individuals find courage every day to overcome adversity, stand up to bullying and find equality. I'm truly saddened that my words today suggested otherwise. I've long been a supporter of gay, lesbian, and transgender rights, and I'm saddened that my comments, however unintentional, offended anyone, specifically members of the LGBT community.

The fact that I have hurt anyone is devastating. I'm not that guy. I'm proud to be an ally of the LGBT community and will continue to fight with them.
So, do you forgive and forget, reader? Or were you just not that offended, because, you know, it's Carson Daly? Does the size of the star or their platform amplify an offensive comment, or is all discrimination equal?