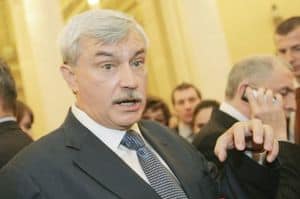 Well, that's it — you're now a criminal if you "promote" homosexuality to minors in St. Petersburg, Russia. Promotion, as Andy's been writing for months, includes the participation in/organization of Pride Parades and gay rights protests, as well as (who knows?) the maintenance of a gay website, the donning of a gay pride pin, the sporting of a gay pride bumper sticker, whathaveyou. It's the kind of foggy, subjetive law that can only be enforced selectively, by whichever petty bully is empowered to enforce it at the moment. 
The offending legislation was signed on March 7th by St. Petersburg's Governor Georgy Poltavchenko, a particularly dull-eyed KGB thug who rose to power on the same black tide as Russia's Once and Future President.
Here's a response from Polina Savchenko, the General Manager the St. Petersburg LGBT organization Coming Out:
Today it became known that the governor of St. Petersburg Georgiy Poltavchenko signed the homophobic law, imposing administrative fines on the so-called "propaganda of sodomy, lesbianism, bisexuality, transgenderism" and paedophilia to minors.

Authors of the law maintain that it is designed to "protect children from information that can harm their physical, intellectual, moral, and spiritual development". The term "propaganda" is defined as any uncontrolled and targeted distribution of information through any accessible means to minors that can […] form an incorrect perception of social equivalence between traditional and non-traditional conjugal relations". Authorities project "traditional values" and clerical rhetoric onto politics, and prioritize "interests of majority" over the value of human individuality. We realize that today, fascist-like rhetoric in Russia is becoming basis for legislative activity.

In fact, this law has little to do with protecting minors. Today, neither homosexual people, nor human rights defenders, nor lawyers can answer the question of how this law is going to be applied in practice, due to its vague nature and non-legal terminology. To talk about existence of homosexuality, to publicly denounce homophobic violence, to develop sense of self-awareness and dignity in homosexual people, to promote tolerance – all of these acts can fall under the "propaganda" law. This law will serve directly to further isolate and marginalize the gay community and encourage hate towards a social group.

60 years ago philosopher and founder of totalitarianism theory, Hannah Arendt, said that in a totalitarian state, citizens are "either victims or executioners and the movement by its ideology seeks to prepare them to fill either role." Handing out of roles has begun: Russian authorities legalized discrimination of homosexuals. What will come next?

We are convinced that no authority can deprive people of their right to dignity, to respect of private and family life, to freedom of expression and to protection from discrimination and violence. We are offended and outraged by this act by city authorities and will continue fighting for the rights of LGBT citizens until the barbaric law is repealed.
Nikolai Alekseev, head of the Russian LGBT Human Rights Project, sent an email to supporters reminding us that the St. Petersburg law is only one of four similar anti-gay laws in Russia, all of which he is fighting or intends to fight in the European Court of Human Rights.