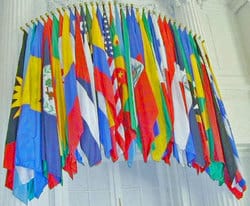 Some good news out of the Inter-American Court of Human Rights today: the court, a judicial arm of the Organization of American States, ruled that Chile violated Karen Atala's rights by not granting her custody of her children after she left her husband for another woman.
The Chilean government must now pay Atala, a judge, $50,000 in damages and $12,000 for legal fees, the New York Times reports.
While this doesn't sound like huge news, it could actually have a notable impact across the Americas.
It is the first time the Court has ruled on a case of discrimination based on sexual orientation.

Additionally, the court affirmed that in regards to the right to equality and non-discrimination, "sexual orientation and gender identity are protected categories in the American Convention under the phrase 'other social condition' established in article 1.1 of the Convention." and that no legal decisions — whether made by governmental authorities or not — can "diminish or restrict, in no way, a person's rights because of their sexual orientation."

The Court also found the Chilean State, through its Supreme Court ruling, "internationally responsible" of violating other principles found in the Convention, including the right to privacy, the protection of family, and the right of children to be heard.
The United States is a member of the OAS, so this techically includes us, but obviously the US isn't about to bend to this court's ruling. Still, a symbolic win is better than none at all.