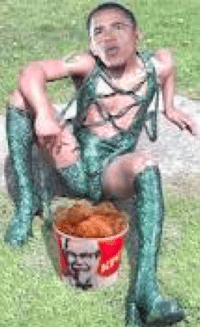 This image isn't clear, but it doesn't need to be for readers to understand what the conservative John Locke Foundation meant when it included this racist and homophobic picture in a post blasting President Obama's campaign for opposing a proposed North Carolina ban on gay marriage. But, just in case you can't tell, there's the commander-in-chief, dressed in poorly designed drag and eating Kentucky Fried Chicken. Very mature, right?
"Out of no where, President Obama suddenly feels the need to declare his objection to North Carolina's pending vote to ban on gay marriage," former radio host Tara Servatius writes in the post, called "Obama Goes Pro Gay Marriage to Get NC on Election Day."
The John Locke Foundation is funded in large part by conservative millionaire Art Pope, which is why the website Art Pope Exposed managed to catch the racist, homophobic image, called "Obama Gay" before the Foundation took it down.
While the John Locke Foundation no doubt hoped no one would notice, North Carolina's NAACP released a statement today demanding answers:
We at the NC NAACP have learned of the disgusting picture of our President on the John Locke Foundation blog and website. What we have seen so far has both racist and homophobic overtones, both of which are contrary to the fundamentals of our democracy. It's outrageous and it shows the kind of racialized, mean-spirited and divisive political attitudes that still exist in the South. On Thursday we will demand to know who authorized and developed such a racist and bigoted portrayal to be placed on the site of an organization that seeks to have so much influence into the shaping of public policy in NC. Whoever did it is completely over the line. It is reckless and dangerous. And should not only be an afront to the black community, the civil rights community, the LBGT community, but every North Carolinian.
Now, I understand that there's probably no way we can complete erase hate — racist, homophobic or otherwise — but when will bigots learn that the Internet's memory is long and its reach wide? if you put up a picture of President Obama "in drag" and eating fried chicken, someone is going to find it and blow up your spot — and you deserve it.
In related news, the state's Catholic Bishops called the president's opposition to the ban "a grave disappointment."
"It is a grave disappointment, as it is reported to be the first time that the President has entered into this issue on the state level, further escalating the increasing confusion on the part of some in our society to the very nature of marriage itself," they said.
Maybe Obama's equality-minded opposition in the Tar Heel State is a precursor to a larger move?