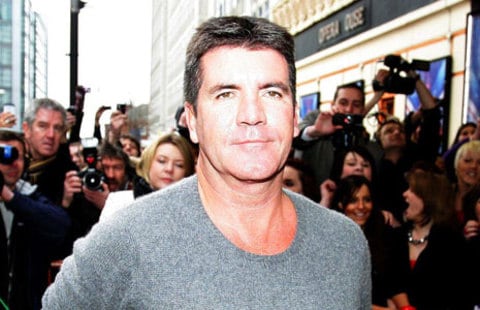 Simon Cowell got a little touchy after comedian David Walliams jokes that he's gay. The duo were recording a segment on ITV's Jonathan Ross Show to promote Britain's Got Talent when Walliams, co-creator with Matt Lucas of Little Britain, quipped, "The main question I get is, Is Simon gay? Even my mum asks. She says, He's nice. Is he gay?"
Ireland's Independent says Cowell was none too pleased, which probably only further encouraged Walliams:
Cowell looked awkward and attempted to move the conversation on, by discussing how he likes to get up at 12 in the afternoon and go to bed at 5 in the morning, to which Walliams quipped "At 12 o'clock at night you're working quite hard – because that's when the lady boys come round."

The X Factor boss then replied "It's worth pointing out that I have a relationship with ITV and most of this will be edited out."
Is this a case of protesting too much or is Cowell just asserting the fact that he's an influential man? I think the latter. As one audience member remarked, "He is not used to being the butt of everyone's jokes." Maybe he should be.
AFTER THE JUMP, a picture of young Cowell worth sharing.