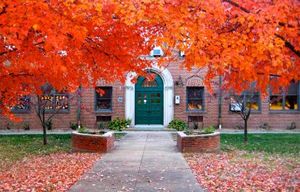 Congrats to Al Fischer and Charlie Robin, who were married yesterday in Central Park, in New York, on the occasion of their 20th anniversary. 
Here's hoping the ceremony was lovelier than the circumstances preceding it. Fischer and Robin live in Missouri, where Fischer for years taught music at a Catholic school (St. Ann) and served as part-time music director at a Catholic church (St. Rose Philippine Duchesne). He was always open about his sexual orientation, and about his relationship with Robin. As the couple prepared to fly to New York for their ceremony, Fischer announced his plans at a school staff meeting. There was applause.
But one fellow in attendance, a representative of the St. Louis Archdiocese, probably did not clap. He reported the news of Fischer's impending nuptials to his superiors, and the next day Fischer was fired. 
From the Times:
Two weeks later, after news of his firing made headlines, he was terminated from his second, part-time job as music director for the Roman Catholic church where he and his partner, Charlie Robin, have worshiped for more than six years.

"I didn't expect any of this," said Mr. Fischer … "I didn't understand it would be, 'click, you're done,' but it was."
Fischer's firing prompted a storm of protest from parents at St. Ann's, but it did no good: Fischer had previously signed a statement promising to never take a "public stand" against church tenets, and marriage was considered such a stand. (Fischer has long served as the director of a gay men's choir; why that never counted as a "public stand" is unclear.) Fischer reports that his former colleagues have been supportive. From the Times:
Even with his firings, he received nothing but support from the pews. Even of the people who fired him, he said: "These are good people in a tough situation, having to toe a particular line. If they supported me they'd be making a statement against the tenets of the church. They signed the same witness statement that I did."
Fischer has already received offers of employment from a secular school, where he'll begin teaching next semester. In the meantime, he and Robin are enjoying their weekend in New York; this evening they'll take in a performance of Priscilla: Queen of The Desert.