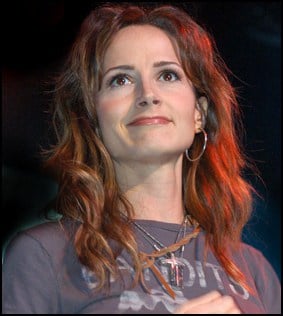 Well — technically it's a center for youth who are questioning their sexuality, but these kids will probably figure themselves out quickly enough. Maybe they'll stick around.
Chely Wright is the nu-country singer of hits "Shut Up And Drive" and "Single White Female" who came out of the closet in 2010 and shortly thereafter married her partner, the activist Lauren Blitzer. She decided to open the LIKEME Lighthouse, as it's called, because she grew up not far from Kansas City and remembers well the difficulties of coming of age in an area without resources for LGBT teens. From the Washington Post:
"This just gives so much hope to these outlying areas, that your major metropolitan area has a gay and lesbian center," said Wright, who married LGBT activist Lauren Blitzer last summer. "That would have meant everything to me had I been a kid growing up in Wellsville, knowing that there is a beautiful facility in our major city, that that was OK.
LIKEME Lighthouse's ribbon-cutting ceremony is today at noon, and opening festivities continue into the evening with performances by Wright, Alan Cumming, and others. Lighthouse's website is up and fully operational, but it doesn't seem like the center's yet fleshed out its programming. The facility will be open, presumably for drop-ins, from 11 a.m. – 7 p.m. on most days, but what teens will be able to do once they arrive hasn't yet been decided. Maybe Lighthouse is waiting on volunteers?