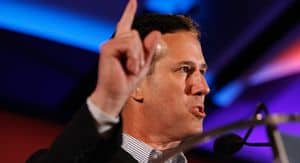 The AP reports that top Republican strategists are disappointed by the lack of discipline evident in Rick Santorum's recent campaigning, and his seeming inability to remain, as they say, "on message." Having squandered a massive lead ahead of last week's Michigan's primary by obsessing over culture war arguments that annoy even most Republicans, Rick Santorum seems incapable of adhering to his own strategy for avoiding a repeat performance.
Last week, Santorum rolled out a re-tooled message in Grand Rapids, MI, on primary night, focusing anew on job creation, his working class roots; his love of family, hearth, and home. From the AP:
"He is always going to have to struggle by responding to misperceptions that are out there," top adviser John Brabender told a handful of reporters after the Michigan loss became official. "The way that you solve that sometimes is to let people into your life and see a picture of you that you don't always share."

It was a strategy widely viewed as smart – and it didn't last.
Soon after, as Santorum dashed from state to state ahead of Super Tuesday, the candidate backslid into "sometimes rambling" speeches about contraception, health care for college students, Ronald Reagan's fight against "evil," and the death of nuclear family From the AP:
At the American Croation Lodge in Willoughby, Ohio, Santorum said it was impossible to talk about the economy without talking about the importance of two-parent families.

"Go to the areas of Cleveland where you don't see any dads. What do you see? Do you see freedom? Do you see opportunity?" he asked during his Friday night appearance. "Do you see jobs? Do you see police? Do you see government? Everywhere. That's the reality."
Republican strategists Todd Harris and Michael Dennehy think Santorum's public kultukampf is political suicide. Dennehy says the campaign needs to get "much better on discipline"; Harris has a go at Santorum's handlers for not controlling "what comes out of the candidate's mouth." Neither man apparently thinks Rick Santorum does the country a favor by honestly stating his beliefs.