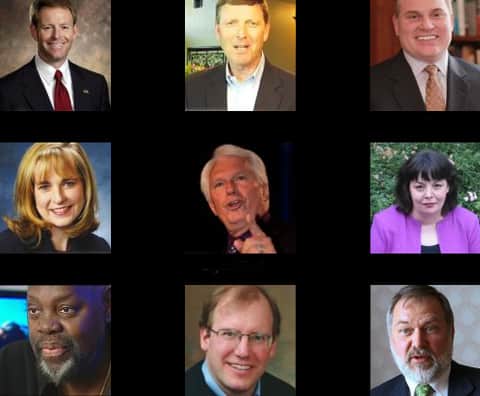 GLAAD last week launched their Commentator Accountability Project, an initiative highlighting network and cable news guests who regularly spout anti-gay rhetoric to their right wing armies.The list includes people like Family Research Council's Tony Perkins, NOM's Maggie Gallagher and "ex-gay" advocate Alan Chambers.
AFTER THE JUMP, a sample of some of the most recent responses from conservatives both on and off the roster, plus some video and audio.

This is like McCarthyism. This is like a blacklist. Trying to identify those that they think represent a danger to their interests, to their agenda, and then to try to silence them… They want to take away our ability to participate in the public debate over homosexual issues. And they are proving that I am right. What did the Nazis do? They silenced their opposition.
I'm pleased to report that my name was included on a list of pro-family, Christian leaders… What is this list? It is a media "black list" drawn up by [GLAAD]. GLAAD is working hard to silence conservative, pro-family, Christian voices in the media.

My friends, the culture war is real. This is just the latest example of the radical left's intolerance and its assault on free speech. That is why Fox is under attack and why advertisers on the Rush Limbaugh Show are being threatened. It is more evidence of its efforts to force faith and conservatism out of public arena and into the closet.
Proposition 8 and Newt Gingrich supporter Jim Garlow: "There's 36 of us total. [GLAAD] wants to destroy these people and keep them off their air and keep them from interviews… We want to keep them from not being allowed to speak anymore."
Linda Harvey (not on the list, but hateful nonetheless):
The carefully cultivated Hate brand is a big seller among marginally informed youth who quickly process whom to heed and whom to dismiss. This volunteer sales force moves throughout the nation with whistleblowing at speeches, interruption of church services, heckling and predictable "H8″ protest signs.

…

Recognize this? Hate branding, focusing on Jews, succeeded in branding them as the 'enemy' in public opinion in Nazi Germany. It's the method used today by Islamic radicals who spread ludicrous fables about Jews in many mosques.