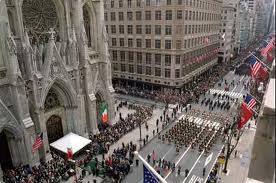 Happy St. Paddy's Day! At this very moment, many hundreds of festively attired and potentially very drunk people are either marching or preparing to march in New York City's 251st annual St. Patrick Day's Parade. It'll be a helluva spectacle. But the parade will include no gay floats or banners.
To which one may reasonably respond: So what? It's an Irish thing. What's more, it's an Irish Catholic thing — the parade's run by a Catholic fraternal order with the tellingly silly name "The Ancient Order of Hibernians," the leaders of which four years ago likened out, gay participation in their 5th Avenue processional to neo-Nazis marching in an Israeli parade. 
But — while it may be one thing for a Catholic fraternal order to be discriminatory, Michelangelo Signorile and GLAAD argue that it's quite another thing for NBC to enable its discrimination. And that's what's happening. From Signorile:
It's frankly appalling that NBC, and now its parent company Comcast, still sells the broadcast rights (on its local affiliate, WNBC) to the intolerant bunch that runs the parade (in 2007 that amount was $300,000) and then helps the organizers sell advertising to major companies. More than that, one of NBC's top executives, a man who aids the organizers in getting those ad dollars, was chosen as this year's Grand Marshal.
And from GLAAD:
Once again this year, New York's NBC Affiliate is airing … and thereby undoubtedly financially supporting this discriminatory event. In fact, the Grand Marshall of this year's parade is Francis X. Comerford, Chief Revenue Officer and President of WNBC.

The annual St. Patrick's Day Parade is a New York tradition. But so is community spirit. So is standing up for your fellow New Yorkers. So is diversity and inclusion. What message is WNBC sending its LGBT and allied viewers?

"The idea that a group of LGBT people aren't allowed to participate in a parade in the middle of New York City in the year 2012 is completely out of touch with a majority of Americans – regardless of ethnicity or religion – and it is frankly indefensible" said GLAAD's Vice President of Programs and Communications, Herndon Graddick. "GLAADwill be requesting to meet with WNBC to ensure that, if such discriminatory practices remain in place, the event isn't one associated with such an important and inclusive media outlet that should represent the full diversity of New York City."
Both Signorile and GLAAD point out that several high-profile guests have in the past turned down invitations to appear in the Hibernians' big green slog, most notably former Irish President Mary McAleese, and Signorile notes that with Comcast's takeover of NBC, even the company broadcasting the parade may well sit the thing out next year. Unless the Hibernians change their minds.