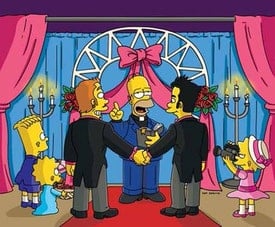 During the Bush years, marriage equality ranked as a top concern for voters, mostly among conservatives who wanted to squash the prospect all together. How times have changed.
A new survey from the Pew Research Center for the People & the Press finds that gay marriage is the least of voters' worries this election season: a scant 28% said that marriage equality is a "very important" electoral issue for them.
Huffington Post elaborates:
Conducted on April 4 and 5, the latest national survey by the Pew Research Center for the People & the Press found that a mere 28 percent of those polled ranked marriage equality as "very important" to their vote. Significantly higher on voters' list of election concerns were the economy and jobs — which topped the list, at 86 and 84 percent respectively — along with health care at 74 percent.

Among those to praise the results was Human Rights Campaign (HRC) President Joe Solmonese, who called support for LGBT equality "common sense."

Solmonese noted in a statement: "Fair-minded people are increasingly aware that extending rights, benefits, and protections to their LGBT neighbors strengthens the communities they live and work in. It's important to remember that so much of what we're fighting for — marriage equality, workplace protections, fair treatment when our loved ones are hospitalized — contributes to a strengthening of the issues voters care about the most." He added, "This latest data reinforces the fact that supporting LGBT equality is not a divisive wedge issue."
While this is indeed good news, it also means that we most likely won't be hearing too much about same-sex nuptials on the campaign trail.