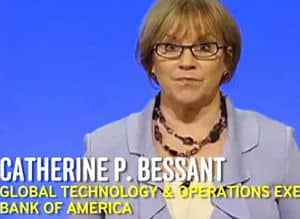 Bank of America is defending a YouTube video posted by Catherine P. Bessant, a "global technology and operations executive" with BoA, for speaking out against North Carolina's anti-marriage "Amendment One." (BoA is headquarted in Charlotte, NC.) 
From the Daily Herald:
Nicole Nastacie, a Bank of America spokeswoman, said in an email that the video is legitimate [though] the company isn't taking a position on Amendment One. "Employees are allowed and encouraged to be involved in their personal capacity in dialogue and debate on important public issues," she said.
In the video, Bessant apparently said:
We're in a war with other states across the country who would love to have the jobs that we have today … Amendment One has the potential to have a disastrous effect on our ability to attract talent and keep talent in the state of North Carolina.
I can't confirm that the quote is accurate, however, because Bessant's YouTube vid has now been set to "private."
Still, NC Republicans claim they sympathize with Bessant's critique, and address it in the very language of the bill. Amendment One, they say, while restricting marriage to one-man- and one-woman-unions, sets no restrictions on what benefits private companies may offer their employees. From the Daily Herald:
"We added that language specifically to allay unfounded assertions that this was going to hurt businesses," [said Paul Stam, the Republican majority leader of the state's House of Representatives.] "They can give any kind of benefit they want. Where's the beef?"