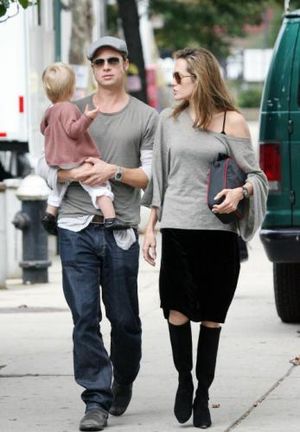 In January, Andy reported that Brad Pitt and Angelina Jolie may get married sooner than later, despite the couple's repeated insistence that they'd wait until all Americans enjoyed full marriage equality. Back then, Pitt was saying:
We'd actually like to, and it seems to mean more and more to our kids. We made this declaration some time ago that we weren't going to do it till everyone can. But I don't think we'll be able to hold out. It means so much to my kids, and they ask a lot. And it means something to me, too, to make that kind of commitment.
Indeed, they couldn't hold out. The couple's engaged, and TMZ reports that Equality California's got no hard feelings:
Rebekah Orr, Communications Director for Equality California, says the group is totally behind the Brangelina marriage, even if the right to vote is still not enjoyed by everyone. [sic]

She tells us, "Marriage is something that says 'we're a family' in a way that nothing else can … No one has to deny that for themselves or their family to prove they are an ally and supporter of equality."