As it did last year, the Budapest Municipal Court has overruled police and said that a Gay Pride parade planned for this summer should proceed, the WSJ reports: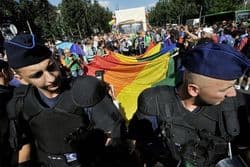 The Hungarian arm of Amnesty International, civil rights group Hungarian Civil Liberties Union, and organizations of homosexual activists welcomed the court's decision. The organization expect some 1,500 people to show up at the march on July 7.
Like in recent years, the police refused to grant permission for the Budapest Pride, saying the march would restrict commuters' right to free movement. The court said, however, that traffic can be diverted from a road that otherwise frequently hosts marathons and bicycle rides.