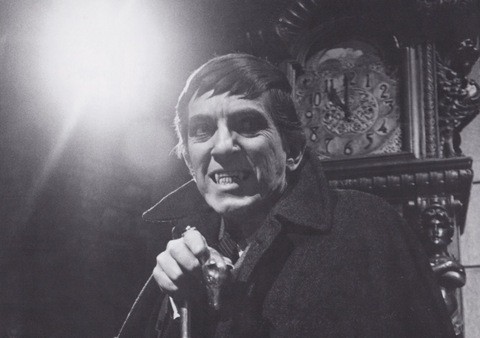 Jonathan Frid, the actor most people know for his role as vampire Barnabas Collins on gothic soap Dark Shadows, has died of natural causes, Digital Spy reports. He was 87-years old.
Frid's death of course comes just ahead of Tim Burton and Johnny Depp's big screen adaptation of Dark Shadows, which aired from 1966 until 1971, and was a cult favorite. Frid makes a cameo in the flick.
Remarking on Frid's passing, Village Voice journo Michael Musto raises questions about the actor's private life:
And as my friend William Love–a true-blue Dark Shadows aficionado–remembers, Frid withdrew whenever personal questions were asked.

Frid's familiar line about his character was, "I don't play a vampire. I play a man with a secret."

That seemed to apply in real life, too.

Frid always came off like a fey cross between Oscar Wilde and Edgar Allen Poe, but his culty female fans through the years always argued, "He loves women!" or "He's asexual. He doesn't believe in having sex!"

And there was the hot guy William knows who once approached Frid as a fan, only to have the actor coo, "Let's talk about you."

(Another male I know claims Frid once chased him for sex, but the guy tends to have a vivid imagination, so take it with a grain of vampire dust.)
In the end, though, such questions really don't matter. Not at this point, at least.