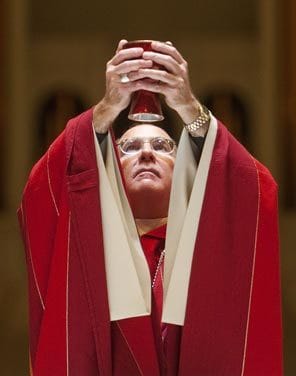 Seattle's Archbishop J. Peter Sartain is one of the worthies who spoke out against the legalization of same-sex marriage in Washington state. It didn't matter: Governor Christine Gregoire signed marriage equality into law earlier this year. (Incidentally, Gregoire is a Catholic.) Now the Archbishop is circulating petitions through the state's parishes to get the issue on a November ballot. From Reuters:
A bulletin from Seattle Archbishop J. Peter Sartain, who testified against the gay marriage bill, and the Washington State Catholic Conference has asked parishes to participate in the signature-gathering effort and "do everything you can to uphold the traditional definition of marriage in our state."

"We bishops have already made known our strong opposition to the redefinition of marriage, and we will continue to do so," the letter said. "Because we believe that this issue is critically important, we … have approved the gathering of signatures in our parishes over the next few months."
As things currently stand, same-sex couples will be able to marry in Washington this summer. But if equality's opponents collect 120,577 signatures before a June 6th deadline, those marriages will be delayed until after the November elections. If Washingtonians should vote to roll back equality, the state will continue to offer civil unions, though full marriage will be delayed indefinitely.
But Archbishop Sartain may not get as much help as he hoped from his signature drive, as several Catholic parishes have refused to circulate his petition.
From Reuters:
Reverend Michael Ryan of St. James Cathedral, which opted not to take part in the petition drive, told church members in an email: "Doing so would, I believe, prove hurtful and seriously divisive in our community."

Using similar language, the pastoral life coordinator at St. Mary's Church, Tricia Wittmann-Todd, said collecting signatures would be "hurtful and divisive" to her parish.

"I am particularly concerned about our youth who may be questioning their own sexual identity and need our support at this time in their lives," she said in a statement.
The dissenting parishes have received considerable moral support from pro-equality members of the laiety. Among them is Barbara Guzzo, a 62-year-old woman who co-founded Catholics For Marriage Equality In Washington:
"There are Catholics who clearly aren't going to move off the position of marriage as only between one man and one woman, but this is about civil marriage," she said, adding that some Catholics dislike the idea of circulating legislative petitions in church, which has not been done since the late 1980s.
Seven Catholic parishes have so far refused to participate in the signature drive. There are 300 Catholic parishes in Washington altogether.