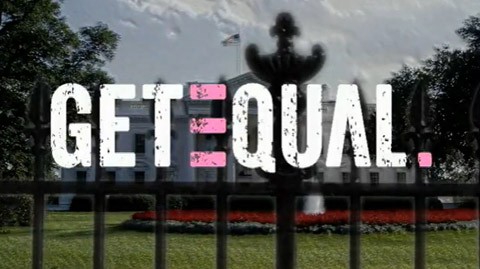 GetEQUAL vowed to start slow but then increase intensity in its protests against President Obama's rejection of an executive order prohibiting anti-LGBT discrimination among federal contractors.
The White House says Obama wants to focus on a national ENDA, but, like other activists, GetEQUAL thinks the president can accomplish both, or should at least try.
The Washington Post's Greg Sargent reports:
You may recall that during the battle over don't ask don't tell, a gay rights group called GetEQUAL got lots of press coverage for its civil disobedience against the White House over the issue. Images of activists chained to the White House fence or getting taken away in handcuffs gained wide circulation.

Now the group is about to launch a similar campaign against the Obama campaign over the executive order, which has been a priority for gay advocates ever since Obama took office.

GetEQUAL's managing director, Heather Cronk, tells me that in the next few weeks, the group will start staging actions against Obama For America offices throughout the country. The actions will begin with small gestures and will escalate over time.

"We'll certainly be doing potentially arrestable actions at the White House," Cronk tells me, confirming that the group has raised money in the six figures from gay donors to finance the actions.
Something tells me Mr. Obama is going to have a long, hot summer full of pro-equality action. Lucky him.