Secretary of State Hillary Clinton spoke out about advocating for LGBT rights in anti-gay countries at an appearance yesterday at Syracuse University, NewsCore reports: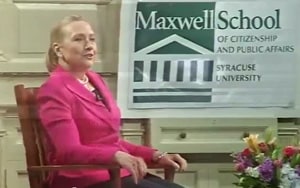 "You can imagine the conversations that I have," she said.
In parts of Africa and Asia, she said, gay rights is "just a totally foreign concept."
"I mean, the first response is, 'We don't have any of those here,'" she said, to laughter. "Second response is, 'If we did, we would not want to have them and would want to get rid of them as quickly as possible. And it's your problem, United States of America, that you have so many of those people. So don't come here and tell us to protect the rights of people we don't have or that we don't want.'"
"It's a very difficult conversation because it's just not been one that people have had up until now," she said.
Clinton said the same was true for women's rights: "If you're someone, as I am, who believes strongly in the empowerment of women … in a lot of places, it's just not understood."