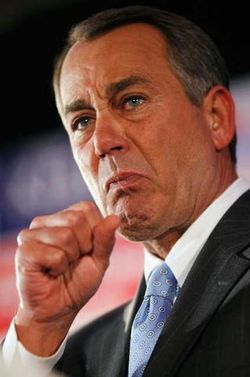 If you hope John Boehner is going to help President Obama pass a comprehensive Employment Non-Discrimination Act, don't hold your breath.
The Republican House Speaker was asked about the matter yesterday and told Washington Blade reporter Chris Johnson yesterday that he's not even thinking about it:
Although the administration insists it will work with Congress to pass legislation in lieu of an executive order barring federal contractors from discriminating against LGBT workers, Boehner seemed unaware of ENDA in response to a question from the Washington Blade, saying, "I haven't seen the bill. I haven't thought much about it."

Asked whether passage of ENDA might alleviate the 8.2 percent unemployment rate if employers were barred from firing LGBT workers, Boehner said "ample laws" are in place and deferred further comment to the House Committee on Education & the Workforce. The committee didn't immediately respond to a request for comment.

"No one should face discrimination in the workforce," Boehner said. "There are ample laws already in place to deal with this. Having been the chairman of the Education & Workforce Committee, I'm quite familiar with employment law. But if there are further changes that are necessary, I'm sure the committee will look at it."
Tico Almeida, president of the group Freedom to Work, thinks Boehner simply doesn't want to go against an American public that increasingly supports LGBT protections.
"Boehner ducked this question from the Washington Blade because he does not want to have to publicly side with the small and decreasing number of Americans who tell pollsters that simply being gay should be grounds for firing a talented and hard working employee," said Almeida.