Siberia Pride is not happening this year: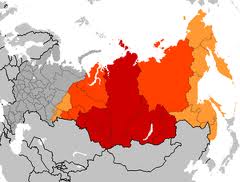 "It's mainly about various gay parades… about their promotion among minors. It's about preventing people who are not related to homosexuality from explaining to their kids what is going on," said Alexander Ilushchenko, who oversees a regional committee on culture, education, sports and youth policy.
A law penalising "the propaganda of homosexuality and paedophilia among minors" came into force in St. Petersburg on March 17, prompting mixed reactions among Russians where anti-gay sentiment remains strong.
The US State Department has expressed concern about the law which stipulates fines of up to $16,000 on individuals and up to $160,000 on organisations promoting homosexuality.
In all seriousness. it's deeply disturbing what is happening in Russia, with these laws under serious consideration federally.