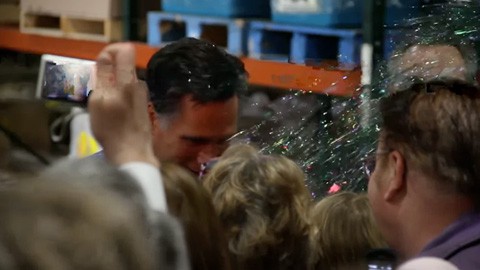 Will the Log Cabin Republicans endorse Mitt Romney? That's the question Chris Johnson poses today at The Washington Blade.
LCR pulled their support of George W. Bush for that president's push for a constitutional amendment banning same-sex marriage. Romney has told voters this year he would pursue a similar amendment. So, will the Log Cabin do the same this election season?
Jerame Davis from the National Stonewall Democats says the whole thing forces LCR to a crossroads of sorts: "On the one hand, if they do endorse Romney, they are sending a clear signal to the rest of the LGBT community that being partisan hacks is more important than standing up for LGBT equality. On the other hand, if they don't endorse Romney they become largely irrelevant in the debate about who will be the next president."
LCR says it will make an endorsement decision before the GOP convention, but until then wants its members to avoid speaking to the press. "We have been informed that Chris Johnson of the Washington Blade is reaching out to our chapter leaders with questions regarding the potential for Log Cabin Republicans to endorse Mitt Romney," reads an internal email obtained by Johnson. "Please redirect Mr. Johnson to the national staff on this issue. No endorsement decision has been made, and it is in the best interest of our organization to refrain from comment at this time."
Johnson also points out that during Romney's 2008 run, LCR produced an ad saying Romney has "fought conservatives and religious extremists," using his past pro-choice comments and criticism of Ronald Reagan as examples of his "Massachusetts values." A 2012 endorsement would require a lot of explaining. Or they could just use the "Romney isn't Obama" excuse other conservative groups have fallen back on…
You can watch the LCR's 2007 anti-Mitt video AFTER THE JUMP.
That image, by the way, is of Romney getting "glitter-bombed" for his anti-gay politics.