The L.A. Gay & Lesbian Center is protesting the publishing of the names and photos of 18 men arrested in an undercover sex sting at a Manhattan Beach men's room earlier this month, the L.A. Times reports: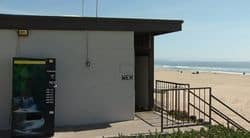 Jim Key, chief spokesman for the Gay & Lesbian Center, said the Manhattan Beach Police Department could have worked with the center to try to stop men from meeting in the restroom, located beside the beach at the foot of Marine Avenue. Key said the Los Angeles Police Department took the public education approach, rather than mass arrests, to cut down on a public sex problem at Griffith Park.
Darrel Cummings, the center's chief of staff, said news organizations should use more discretion before identifying suspects in what he called a victimless crime. "Naturally we don't condone illegal activity of any kind," Cummings said in a statement, "but these men haven't been proven guilty and historically, charges such as those leveled against them have involved police entrapment. Publishing their photos serves no purpose other than to humiliate and destroy their lives."
The Center suggested names and mugshots were released because double standards were applied due to the same-sex nature of the incidents:
Key argued that some big-city police departments are less likely to release photos and that Manhattan Beach should exercise more discretion. Among the media that displayed some, or all, of the photos were the Torrance-based Daily Breeze newspaper; the alternative LA Weekly newspaper; CBS2, KCAL9, NBC4 and KTLA, the latter owned by Tribune Co., which also owns the Los Angeles Times.
Previously…
Manhattan Beach Arrest 18 in Sex Sting [tlrd]