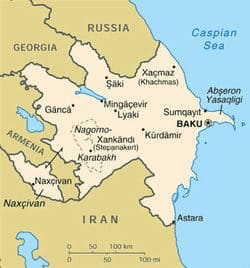 Neighboring nations Azerbaijan and Iran are in the midst of a very unsettling debate.
Iranian news agencies have been reporting that Azerbaijan, which it dislikes for its cozy relationship with Israel, is hosting a "gay pride" parade in conjunction with this week's Eurovision singing contest. Now Azerbaijan, uneasy with Iran after arresting Iranians they claim plotted attacks on the country, is accusing Iran of "slander."
Azerbaijan on Monday accused neighbor Iran of slander for claiming that a gay pride march would be held in Baku while the city hosts the popular Eurovision song contest this week.

"They are making statements about something that does not exist. We are holding Eurovision, not a gay parade," senior presidential administration official Ali Hasanov told a news conference.

"Actually there is no word in the Azerbaijani language for a gay parade, unlike in their language," he added.
Hasanov also used the occasion to slam Human Rights Watch and Amnesty International for constantly getting on their case about human rights abuses. "Groundless statements by two organisations, Amnesty International and Human Rights Watch, cause particular regret," he said.
"The Azerbaijani people see that the statements of these two organisations have nothing in common with the actual situation in the country." If you say so.