One of Mitt Romney's classmates who was mentioned in the Washington Post story yesterday about the bullying scissors attack on a classmate thought to be gay, has come forward to ABC News with a more personal account of what happened.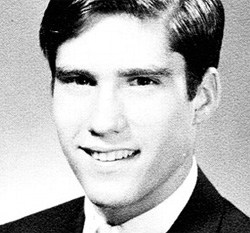 Said Phillip Maxwell to David Muir:
"It's a haunting memory.  I think it was for everybody that spoke up about it …  because when you see somebody who is simply different taken down that way and is terrified and you see that look in their eye you never forget it.  And that was what we all walked away with. I saw it with my own eyes…It was a hack job … clumps of hair taken off."
ABC News adds:
Maxwell said he held the boy's arm and leg, describing he and his friends as a "pack of dogs."
Asked if Lauber was targeted because he was gay, as reported by the Post, Maxwell said, "We didn't know that word in  those days … but there were other words that were used. We weren't ignorant, we just didn't use the current names for things."
Watch David Muir's report, AFTER THE JUMP…