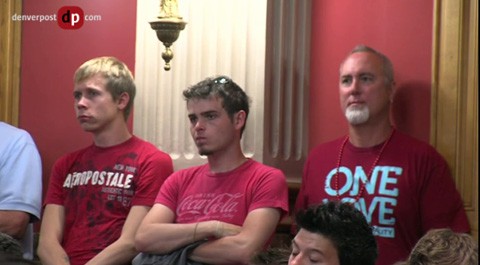 A Republican House-led committee which rejected the measure in 2011 last night approved a civil union bill that would offer legal protections to gay Coloradan couples similar to those of marriage, the AP reports: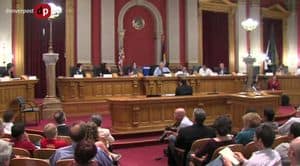 The measure faces two more committee votes, but sponsors are optimistic they have enough support to get the legislation within a week to Gov. John Hickenlooper, who is firmly behind the plan. The measure has already passed the Senate. The newfound support means Colorado could become the latest of more than a dozen states to provide such protection.
Gay couples and their straight allies who waited into the night for the vote were initially hushed after the 6-5 vote. But moments later burst into tears and hugged one another, milling around the committee room long after the vote was taken.
Watch a great Denver Post video of highlights from last night's hearing, AFTER THE JUMP…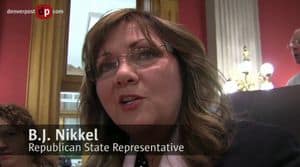 The swing vote? Rep. B.J. Nikkel, a Larimer County Republican not running for re-election:
She voted no on the bill last year, but said after her vote Thursday that she was swayed by the crowd of gay couples who wore red and spent hours sharing painful personal stories of the pains of lacking legal protections.
What's next? The Denver Post reports:
Senate Bill 2 now must go to two other committees, Finance and Appropriations, before going to the full House. Supporters say they are worried about tight deadlines with the session ending Wednesday.
"This bill is dead" unless the committee chairman signs off on a report as soon as possible so the bill can go to the next hearing, said Rep. Dan Pabon, D-Denver. Chairman Bob Gardner, R-Colorado Springs, who has three days to sign the report, said he doesn't know when he will sign it.
Republicans have a 33-32 majority in the House, meaning Rep. Mark Ferrandino, D-Denver, who sponsored the bill, needs the vote of only one GOP member to pass the measure.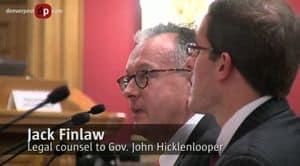 LGBT rights group One Colorado applauded the vote:
"Today's bipartisan vote is a tremendous victory for gay and lesbian couples across the state," said Brad Clark, Executive Director of One Colorado, a statewide organization advocating for gay and transgender people. "We applaud Representative Nikkel's courageous vote for all families. She is the new face of the Republican Party—a party that's quickly recognizing that civil unions adhere to a core conservative principle: the less intrusion into personal liberty the better."
 
"We look forward to a robust floor debate by all of our Representatives in the coming days. Issues with overwhelming public support like civil unions deserve a full up-or-down vote," said Clark.
An April 2012 Public Policy Polling poll showed that 62% of Coloradans, 82% of Democrats, and 75% of Independents support the legislation. Even a strong majority of Republicans—55% in fact—support either civil unions or marriage for same-sex couples.
 
The coalition that is advocating for civil unions includes 200 faith leaders and 140 organizations representing more than 1.2 million Coloradans. Together, this coalition has generated more than 25,000 contacts into the Capitol in support of civil unions.
Watch a Denver Post video of highlights from last night's hearing, AFTER THE JUMP…
Not following us on Twitter @ TLRD yet? We appreciate it when you share and RT our content.